Presenting a Brand New Product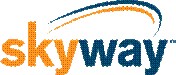 SkyWay is an onboard stolen vehicle recovery service that uses GPS technology.
Lifetime Stolen Vehicle Recovery
Save up to 33% on Car Insurance!
In addition to Lifetime Stolen Vehicle Recovery, you will receive three months of free unlimited access to the valuable features in SkyWay Advantage Service Package:
Early Theft Detection - set an invisible "fence" to protect your vehicle from theft.
Speed Alerts - receive notification when your vehicle exceeds a pre-set maximum speed.
Zone Alerts - receive notification when your vehicle travels into or out of zone you set.
Historical Locations & Live Tracking - know where your vehicle is or has been at all times – from almost anywhere.
SkyWay Mobile - access vehicle features from your web-enabled mobile device.
Maintenance Reminders - receive maintenance reminders via email.
Monthly Reports - vehicle status report delivered monthly via email.
Remote Door Unlock - unlock your doors online or by calling a SkyWay Advisor. Not available on all vehicles
With SkyWay Advantage, you'll have your own secure web homepage.